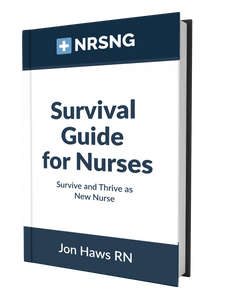 The New Nurse Survival Guide: Survive and Thrive as a New Nurse
Regular price $9.99 $9.99 Sale
Being a new nurse is hard. Now you have a preceptor in your pocket with the top 50 tips for succeeding as a new nurse. Survive and Thrive as a New Nurse.
Experienced nurse Jon Haws RN provides you with 50 tips to not just survive as a new nurse but to thrive and excel. Nursing is hard. Being a new nurse is torture. With these 50 tips taken directly from Jon's experience as a new nurse preceptor and charge nurse you will have the tools you need to make it!
Learn how to handle difficult situations, difficult doctors, difficult patients, and difficult nurses. This book provides the key to unlocking success as a nurse. The transition from school to the real world can be very hard for many nurses. 1 in 5 new nurses leave their first job before reaching the 1 year mark. With these tips you will make it! The Preceptor You Need to Succeed After working with dozens of nursing students and new nurses Jon has seen what habits and skills lead to success on the hospital floor. Those tips are now compiled into one resource. It's like having a preceptor in your pocket!